The Pro Staff at Elk101.com had another great year of archery elk hunting. With September now behind us, we wanted to share some highlights of the 2015 Elk101.com elk season. Overall, the 20 elk hunters who make up the Elk101.com Pro Staff killed 17 elk during the month of September. Here is a brief recap: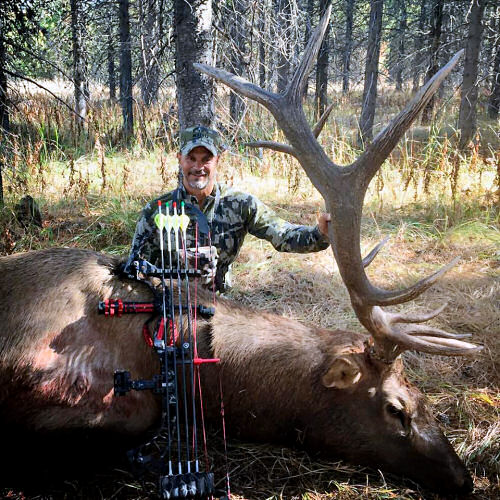 Corey Jacobsen Dirk and I, along with cameraman, John Abernathey, headed to Wyoming early in September. We had a few close calls with big bulls, but they managed to elude us for the first 5 days. On Wednesday, September 9th, this bull came running in to Dirk's calls and I stopped him at 8 yards for a frontal shot. He ran 40 yards and fell over in sight. Stay tuned for some awesome video footage coming in the near future!
Dirk Durham Dirk was able to connect on this backcountry warrior in his home state of Idaho during the 4th week of September. He was calling the bull into his buddy, but the bull circled the set up and came in to Dirk. One shot at 30 yards put this awesome 6x6 down.
Tony Mudd On September 25th (Day 4 of our hunt), I was fortunate enough to find this Idaho bull with the help of a dear friend. We cow called the screaming bull in before I stopped him broadside for a 35 yard shot.
Russ Meyer I got home from the desert and Jess and I loaded for elk. We hit the road late, put our packs on, and made it to spike camp at 5:50 am...After an hour sleep Jess woke me up. "bulls are bugling dad". 400 yards from the tent we got an answer. Jess was the shooter. The bull circled and gave me the 43 yard shot...So incredible to share another great hunt with my son...God is Good!
Josh Boyd This bull bugled at me as I was crashing through the brush and he headed my way after I made a few cow mews. I killed him on September 23rd at a distance of 5 FEET! When I shot he was still walking toward me unaware. I guess the wearing the Optifade pays off!
Ron Niziolek I was able to take my Montana bull (right) on September 17 at 44 yards while still-hunting through the timber. I was actually on my way back to the trail from chasing another bugling bull when this happened. My Wyoming bull (left) was shot on September 28 at 35 yards. I called him in from about 600 yards away and was able to make it a good shot.
Jeff Skousen This season, I was fortunate to take two bulls here in utah with my bow. I harvested my first bull (pictured above) on Sept. 11 (Day 5 of a 5 day hunt). He was the best bull that I saw. I could see the bull raking a tree and bugling at some of the other bulls in the area. Mark stayed back and I stalked to within 65 yards. The bull only went 100 yards.
Kody Kellom Oregon - Roosevelt bull (left) - Spot & Stalk - 27 Yard shot - Stalker Recurve Idaho - Rocky Mtn bull (right) - Called In for 17 Yard shot - Hoyt Nitrum
Ty Stubblefield Cory Miller, owner of XXX Archery of St. Helens Oregon was calling, and we walked into a bugle fest between several different bulls. Though they were responding none of them were committing to come to us so I advanced in what little cover we had trying to close the gap. As I made my move, a spike blew out and made the bull change direction. As the bull turned and headed back the way he came, I ran to the edge of cover, ranged him, drew and cow called in one motion. He stopped and gave me the opportunity I was hoping for.
Anthony Spencer Listen to Anthony's Idaho OTC solo elk hunting adventure on Episode 33 of the Gritty Bowmen podcast - http://www.elk101.com/podcasts/
Jody Cyr I called this Oregon Roosevelt bull into 10 yds with my daughter by my side on September 19th. The bull came in silent.
Matt Brimmer Oregon bull shot on September 15th. We had very little calling activity, but called this bull into 20 yards on the last day of my hunt.
error:
Sorry, content is protected and cannot be copied...